Auckland Building & Landscaping Supplies
The team at MacClure's ITM, West Auckland are here to help with all your timber, landscaping and building supplies.
Whether you're a building professional or a genuine Kiwi DIYer, you'll find everything you need in one convenient location for your building, renovating or landscaping project right here. From roundwood and framing timber, to paint and accessories, plasterboard and mouldings to power and hand tools, "We'll see you right!"
Come and find out why people love our range and people. Ask us for help and advice - our experienced team is here to help.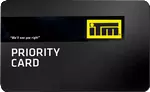 Great in-store product discounts
Exclusive promotions
Exclusive offers
Exclusive pricing as featured in the ITM 'The Right Way' catalogue
The ITM Priority Card is all of the above, plus you'll enjoy the best in service, advice, products and pricing on a wide range of building and landscaping supplies.
Click the image to apply online, or sign in here.